Introducing ChannelPorts new Website: Your New Gateway to Effortless Customs Clearance
We are pleased to announce the launch of our new website, www.channelports.co.uk, your one-stop solution for a seamless customs clearance process. We've improved the way businesses handle international trade by offering a unique and user-friendly portal that simplifies the traditionally complex task of customs clearance.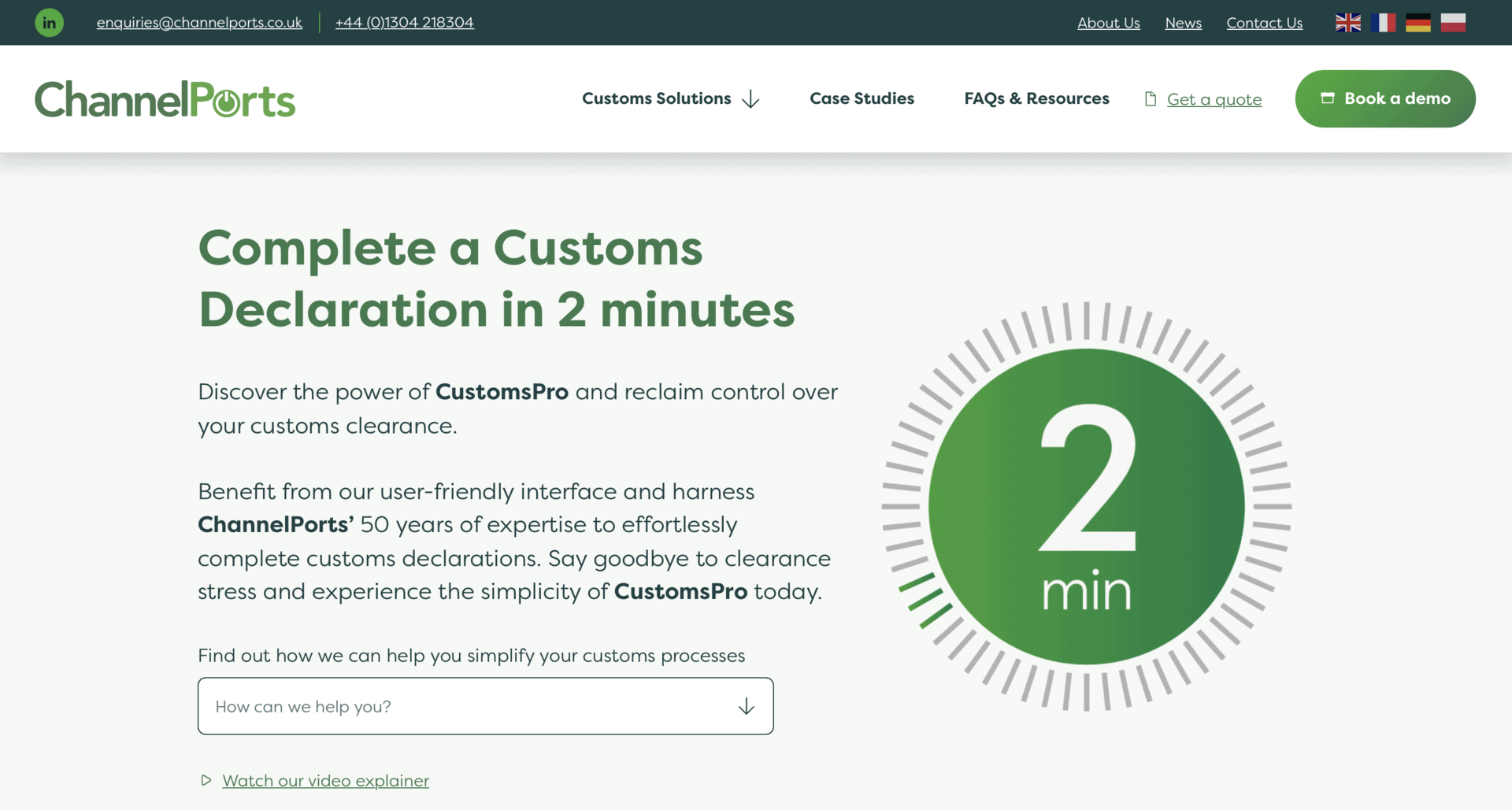 Simplify Your Customs Clearance Process
Say goodbye to the tedious and time-consuming paperwork and the need for a customs agent. With ChannelPorts, you can create your own customs declaration in under two minutes! Yes, you read that right – in less time than it takes to brew a cup of coffee, you can complete a customs declaration in compliance with the new Customs Declaration Service (CDS) system. After submission, normally you will receive your documents back in less than 15 minutes too.
In addition, our system is designed to be used by any of your staff members, even those with minimal training. This means no more delays waiting for specific team members to handle your customs paperwork. Everyone can do it, and they can do it quickly and efficiently.
At ChannelPorts, we believe in transparency and simplicity. That's why we have no setup charges or long-term contracts. Instead, we offer a simple pay-as-you-go pricing structure. Plus, for every export declaration you complete, you'll receive free T1 Transit documents too to reduce costs and time even more.
Multilingual and Convenient Booking
Our new website is multi-language, making it accessible to companies across the globe. Additionally, you can book demonstration slots directly through the site at your convenience. We want to ensure that every user feels confident in navigating the customs clearance process using our portal.
Why Choose ChannelPorts?
The benefits of using ChannelPorts extend beyond the ease-of-use and cost-efficiency. Our platform stands out from competitors by offering a unique blend of speed, simplicity, and support.
With ChannelPorts, you're not just getting a service; you're joining a community dedicated to simplifying the customs clearance process.
Join us on this journey to simplify international trade. Visit www.channelports.co.uk today to explore our new website, learn more about our services, and book your demonstration slot. 
Experience the future of customs clearance and take your business to new heights with ChannelPorts.
Visit now and embrace the revolution in customs clearance process.